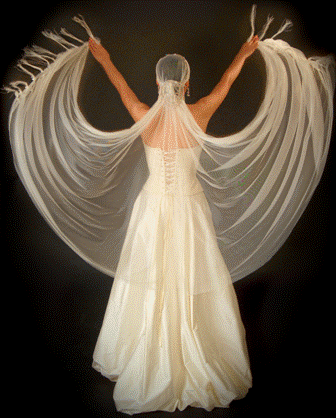 This post is NOT about Rory doubling over in excruciating abdominal pain yesterday afternoon. Nor my harried call to the doctor while I evaluated the logistics of taking him to the ER for what must be of course appendicitis. Nor the miracle SUPPOSITORY that I administered which worked in about 2 minutes. NOT ABOUT all that mama muck, my friends.
Nor would I trouble you with Colette's sudden penchant for sticking her fingers down her throat right after drama suppository. Nor my wondering whether 10 months was a bit young for bulimia. Nor her ensuing hysteria and my utter
cluelessness
. Nor her arching her back to allow me to see the UPC STICKER from her big brother's ICE PACK attached to the roof of her mouth.
No, I would not trouble you with all of that mundane mommy drama - that happened in the span of a mere
PLAYDATE
(detestable term), for cripes' sake!
NO NO NO. This post is about WEDDINGS! Really! Here we are on the cusp of June, the month of brides. And I have ABSOLUTELY NO NADA
NILCH
ZILCH weddings to attend. Part of this is my age: most people of the dreaded mid-thirties demographic are well into the marriage and spawning phase of life. In fact some are already are on their
second marriages
- can't a few more of you all divorce and remarry so I can attend some delicious nuptials?
Because, like most straight females, I LOVE weddings. The rehearsal dinners, the
Pachabel
, the
cheezy
floating candles, the awkward white people dancing, the champagne fountain, the whole perched-on-the-edge-of-hope-and-life feeling of it all. And, my friends, I have been a bit slighted: two of my
bestest
friends remain dedicated to
bachelorette
-ism. But I do not blame them as much as my dear and darling sister
NEIMAN

MOLLY
.
Neiman
Molly has been THIS close to marriage about 329 times. Alas, she continues to date International Men of Mystery who are never in town long enough to feed their goldfish, let alone date a girl properly and propose.
Neiman
Molly happens to be so fabulous that it should only take about a week - if she dated domestic office-bound dudes.
SO...if and when one of these 007s proposes to my dear sister, THIS is what I would wear to the wedding (assuming, of course, that I wasn't required to wear a 1980s prom dress as a member of the bridal party):
The coral color! The chiffon! The beads...it all just screams June and weddings and happiness and
futureness
...
In case YOU have to go to a wedding. Because I DON'T. Darn it.